Arcades
2013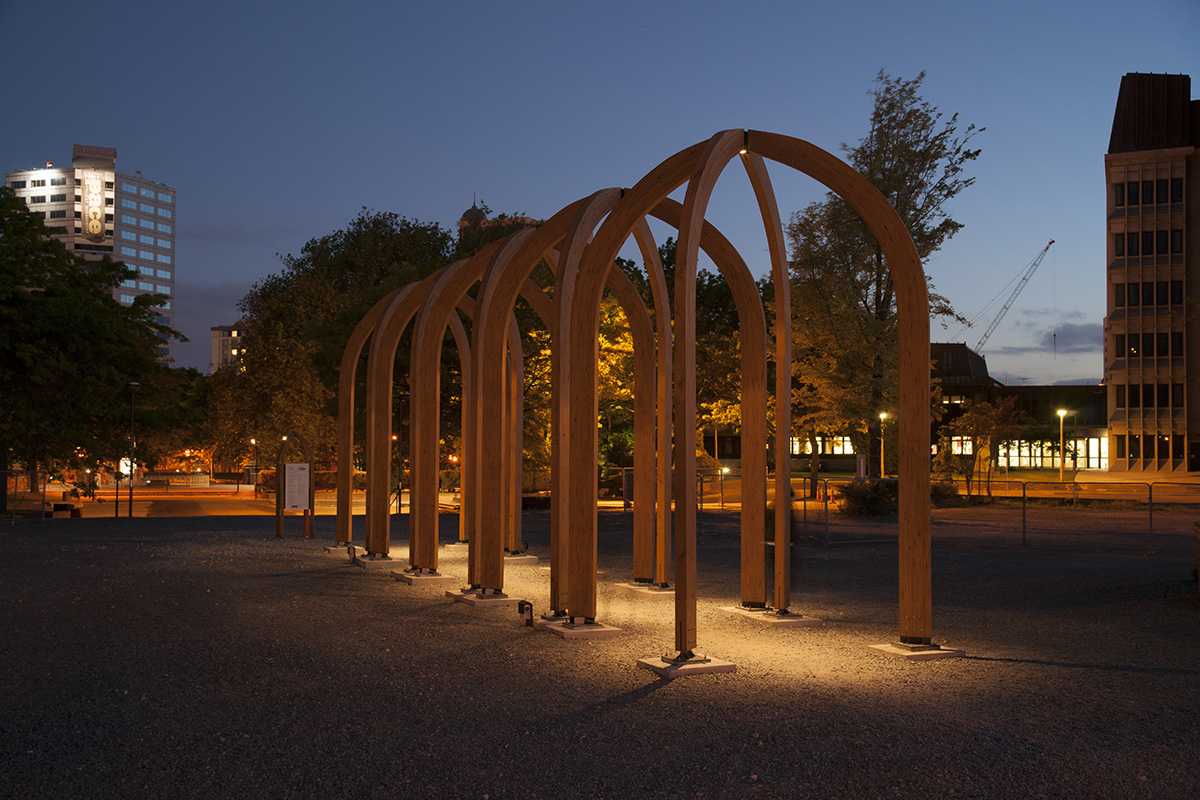 A post-quake project that activates Victoria Square in downtown Ōtautahi Christchurch

Conceived by Field Studio director Andrew Just while working at F3 Design, Arcades was erected as part of the Festival for Transitional Architecture (FESTA). FESTA was a post-quake initiative aimed at encouraging urban creativity and regeneration. It was an opportunity for the public to experience a reimagined Christchurch, comprising imaginative architectural installations, workshops, talks, pop-up projects, family events, tours, live performance, artworks and more.
Located on the former Crowne Plaza site on the corner of Kilmore and Durham Streets, Arcades is a series of six-metre-high vault-like frames that create two arcades, each consisting of five bays, forming a highly visible walkway from Victoria Street into Victoria Square.
The elegant glued laminated timber structures echo the gothic proportions of the entryway to Benjamin Mountfort's Canterbury Provincial Council building. The exposed timber structures are both a nod to the past and a model for a possible architectural future of engaging and unpretentious public structures.
The Arcades Project creates a grand space for events – everything from markets to performances. The arcades support electricity and lighting and are capable of being covered to create internal space. The design makes use of negative space and the structures appear lightweight and relatively insubstantial but define a very large area.
The Arcades Project offered a dramatic framework for temporary activity for any vacant site and its surrounds. This project was born from a desire for new ways to add movable infrastructure to empty sites for community and public events. Designed to be reconfigurable and relocatable, the structures have the potential to enliven vacant sites around Christchurch for the next 25 years.
The realisation of the project mirrors the intensely shared nature of city-making: the process was collaborative and community-driven with input from volunteers and generous sponsorship from local and national businesses and local government.
The Arcades Project was a finalist in the national
Timber Design Awards
2014.
Artwork by Lonnie Hutchinson