Kōwhai house
2016
The transformation of a 44m2 cottage built in the 1970s into a functional home-less-ordinary for a busy family of four.
On a suburban street at the foot of Christchurch's port hills, a sunny yellow roof is just visible behind a high fence and established trees. Jen and Keeley Pomeroy bought the cottage as their first home, and knew they wanted to stay in this location, but as their young family grew, more space was needed.
The use of Kōwhai Glow Colorsteel and cedar cladding is unapologetically vibrant, warm and modern, with the arrangement of the house and garden spaces creating an atmosphere of sanctuary inside. High and low positioning of windows allow privacy while large sliding doors and a veranda provide connection between the living areas and the garden.
Clever design makes small spaces feel generous. A steel beam was added to the original structure, enabling the removal of walls and a spacious open plan kitchen and living room to be created. For Jen, who is a chef, the kitchen and entertaining areas were key. Black bevelled tiles, light ash joinery and ample bench and pantry space make it ideal for hosting and cooking.
The addition runs behind the original structure, with the main bedroom and two single rooms coming off a floor-to-ceiling glass hallway which traps sunshine. A mezzanine in one bedroom borrows space from above the bathroom to provide extra space. Thoughtfully placed windows, skylights and high ceilings bring volume and airiness to small spaces, without compromising on privacy.
Hard working, practical materials are used throughout the 106m2 house. The bathroom features a charred ash vanity and a soft rubber floor that feels great underfoot. An operable skylight at the ceiling's highest point allows light to flood in and moisture to escape, maintaining a healthy and dry environment.
This home is a great example of how a small building can be transformed to accommodate the unique needs of a family, while retaining the charms of its original architecture.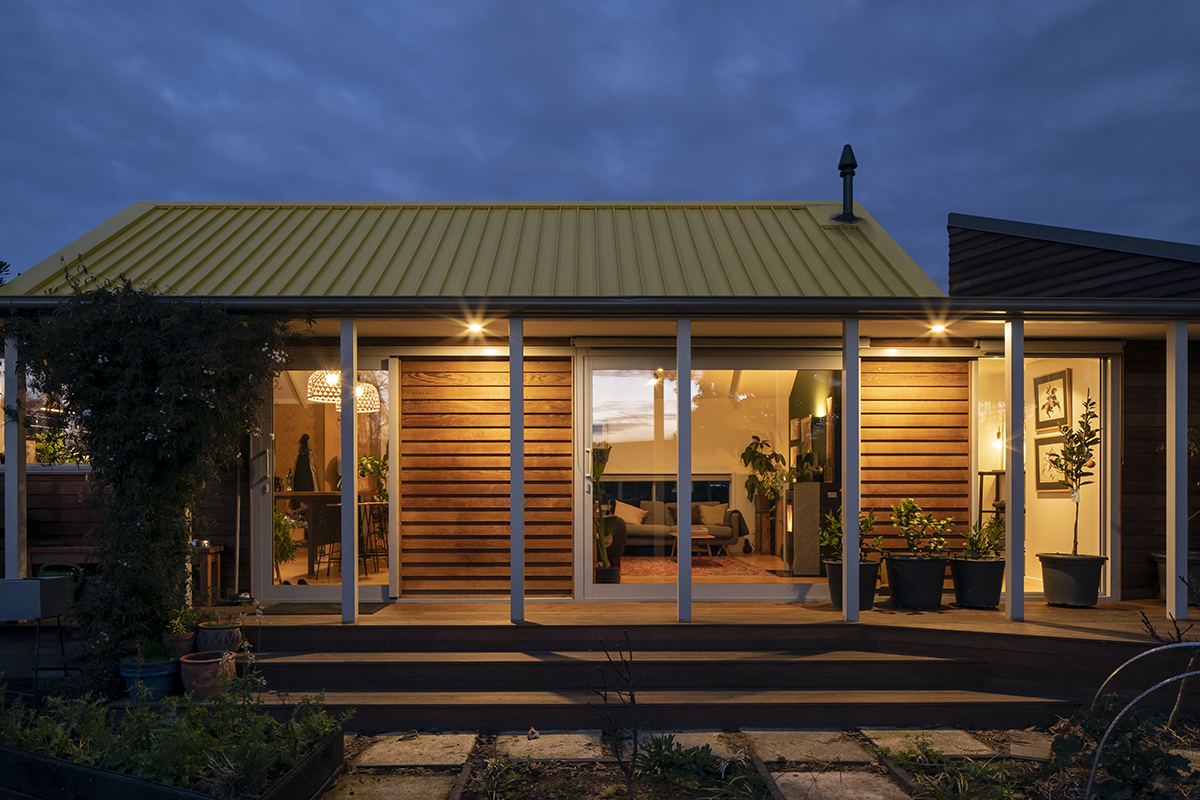 Clients: Jen and Keeley Pomeroy
Field Studio core project team: Scott McKenzie, Andrew Just, Amiria Kiddle, Nick Sargent
Structural engineer: Lewis Bradford
Quantity surveyor: Keeley Pomeroy
Geotechnical engineer: Lewis and Barrow
Surveyor: Budget Set Outs
Landscape architect: Andrew Norris
Lighting designer: Jane Purdue Design
Building consent authority: Christchurch City Council
Main contractor: Pomeroy Builders
Photography: Sarah Rowlands